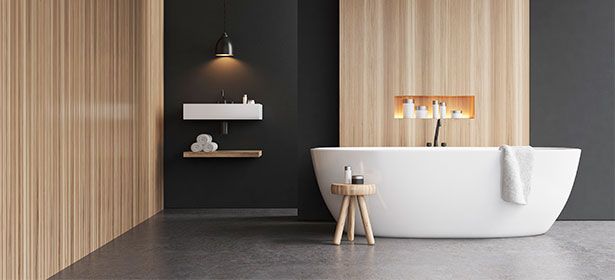 Bathroom Design – 5 ways to make it work in your home
Bathrooms, a notoriously neglected area of the house, yet one that many of us see as a sanctuary to recharge. So, why do we not spend a little more time on making it work for us?
I wanted to tackle 5 ways you can make your bathroom work for you, from clever shelving, to paint and tile options.
If you are looking to update your bathroom in 2021, this one's for you.
Before we dive into it, it's important to understand the basics of bathroom design.
How do you want to use your bathroom, now and in the future? And, how much space do you realistically have – can you really fit that freestanding bath? Being realistic about your goals and options is key to coming up with a layout and design for your bathroom that really works for you.

Layout
It's no good adding in a fancy bathtub, a large his-and-hers vanity and cramming the toilet in the corner when you end up hitting yourself on every piece of furniture in the room, because the room just isn't big enough. Being sensible and allowing enough space between the different pieces of furniture is key – a cluttered bathroom will not give you anything but claustrophobia.
Consider a bath vs a shower/ wet room – yes, the way you live and whether you have a family now or are planning to have one in the future may impact this, but it is worth to consider.
The family bathroom for example may have a bathtub with an over-the-bath shower to cater for young families and growing children alike. That isn't to say that it can't look great. There are many ways to maximise storage, as I'll discuss below, which hides any clutter and makes the space feel calm and relaxing (even with lots of bath toys around).
In an Ensuite especially, a wet room can be a real luxury as you can install a large walk-in shower, giving you that hotel feel.
Hung vanity units are also great for creating a visual illusion of a larger room due to the visible floor space below. It's also great when it comes to cleaning underneath.

Storage
Shampoo bottles and beauty products aren't always the prettiest of things to look at when on display and they usually don't coordinate with your bathroom design scheme. FInding clever storage solutions in even the smallest of bathrooms is therefore key.
If you have a wall hung toilet its cistern is likely concealed inside a false wall which allows you to have built in shelving. It's an easy option to help keep everything tidied away.
Another great space saver are wall hung vanity units and mirror cabinets. As mentioned above, wall hung units increase floor space and make a room look bigger whilst providing the added storage space we all so desperately need.

Lighting
A bathroom is tricky when it comes to lighting. On the one hand, you need task light to get ready in the morning, but on the other hand you don't want to feel like you are on an air strip when trying to relax in the bath. Dimmers provide a great option in this case, as it allows for one single type of light source which can be regulated to suit the current need.
The age old question of recessed ceiling lights vs one single light fitting can only be answered by looking at your overall scheme. Is it modern and contemporary or more towards the traditional?! It's really what will determine the type and also the actual light fitting in the end.
Lastly, mirror lighting as a separate light source can help balance the task vs ambient lighting dilemma so many of us face. A well-lit mirror can provide all the light you need to get ready whilst ensuring you don't need to have an excessively bright main light.

Tiles & paint
There isn't a much easier way to update your bathroom and really feel the impact of it than through new tiles and a lick of paint. There are many ways to decorate your bathroom, from fully tiled to fully painted. Again, the way you use the bathroom and the type of bathroom furniture you have will dictate the wallcoverings. A bathroom with a freestanding bath may not require tiled walls for example, as it is a much more relaxed space where your furniture isn't directly touching the walls. You may opt for a tiled floor to avoid any big splashes ruining your floor boards, though.
Wet rooms on the other hand tend to be fully tiled and create an almost cocoon-like hotel feel – pure luxury in your own home.
When it comes to paint, many bathrooms are tiled partially, either halfway up the wall or only on certain walls, allowing you to change up that paint colour on the remaining wall space. Nothing easier than painting a wall to brighten up an old bathroom.

Ventilation
An often overlooked part of bathroom design is ventilation. And I don't just mean a window. Of course, it is helpful having a window, not just for airing out any steam but also for light, but not every bathroom profits from natural light and ventilation. This is where ventilation fans come in and it is important to factor these in when designing your space.
Even bathrooms with a window may profit from added ventilation, as weather may not always permit having the window open for as long as it takes to rid yourself of the moisture created by a hot shower.
Positioning your fan unit not directly above the shower or bath is also key as steam travels quickly and you may find that a more central position in the room provides better ventilation.

Create a calm and relaxing bathroom – it will give you a place to hide away from the world for a few minutes every day to recharge.
If you are now keen to get going and give your bathroom that long overdue makeover, we are here to help. Whether this is planning your layout, advising on bathroom furniture and storage solutions or designing the entire space – our eDesign service may be the right option for this.
Get in touch through our Contact page or via enquiries@monseinteriordesign.com to book a design consultation. 
All our consultations are currently offered via web services and can be performed from the comfort of your own home.