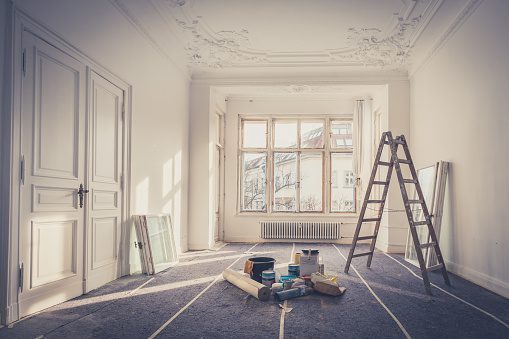 Renovation Design Services
Whether you have just purchased a doer-upper, or have decided to change up your existing living space to better suit your lifestyle, renovating your home involves a lot of planning and project management.
To help you figure out the renovation design process and give you an idea of what an interior designer can do for you, we have created this simple guide to answer all those burning questions before you dive in head first.
What are the different types of renovations & how does the design process differ for each?
Renovations aren't all the same and can greatly vary in size and scope. You may consider updating internal fittings and fixtures, furniture, etc. or you may be looking to move walls and create new spaces that really work for your lifestyle. The design process for the latter, however, is a lot more drawn out, as structural engineers and other consultants may need to be involved early on to determine feasibility and ensure the project can take shape as planned.
If you are looking to update electrics or plumbing in addition to any other changes, this should also be considered at the start of a project as electrical and plumbing plans will have to be produced to aid the trades with their work and to ensure builders can account for any pipework or cables to be added in new wall cavities, or chased into the new walls before plastering.
When it comes to updating a space with Interior Decoration and giving it the finishing touches, the design is more straightforward and can be achieved within a few months from concept to completion, provided that all parties collaborate effectively to remain on schedule.
What are renovation design services?
Renovation design services are anything from full end-to-end management of the entire renovation process, including concept design through project management and staging of the completed space to anything in between. Depending on the brief the service could include the design only, or it could be that building works have already been completed and the client is looking to add the finishing touches to the space with furniture, fittings and accessories. Renovation design services can be tailored to individual needs and will always be discussed with a client at the very beginning of a project.
We would usually have a Zoom chat with any potential client to go through our processes and assess what is required for the project at hand to be able to best advise on how to proceed.
At the consultation stage, we would then visit the site to get a feel for the space, understand how the client lies and see what other rooms in the home might be like to be able to tie the new in with the old, creating a cohesive scheme and maintaining the red thread in a space.
"Take a look at our renovation guide to find out more on what to consider when embarking on a renovation project."
To find out more about our design process, take a look at a blog we wrote a while back. Or, if you would like to learn more about renovations, take a look at our blog on renovating your home and what you need to consider before you get started.
How does Monsé Interior Design tackle renovations?
We use trusted trades who we have previously worked with wherever possible. If we need to find new local tradesmen, we would always look to obtain a minimum of three comparison quotes and ask for images of previous works completed, as well as any testimonials they can provide from previous clients. This ensures that only the best work with us, allowing us to maintain the high standards our clients are used to seeing from us at all stages of a project.
If you are interested in changing the layout of your property or need help with the renovation of your home, we are here to help with professional design services. Whether you are looking for help with your lighting, planning your layout, advising on furniture and storage solutions or designing the entire space.
Get in touch through our Contact page or via enquiries@monseinteriordesign.com to book a design consultation. 
All our consultations can currently be offered via web services and performed from the comfort of your own home.