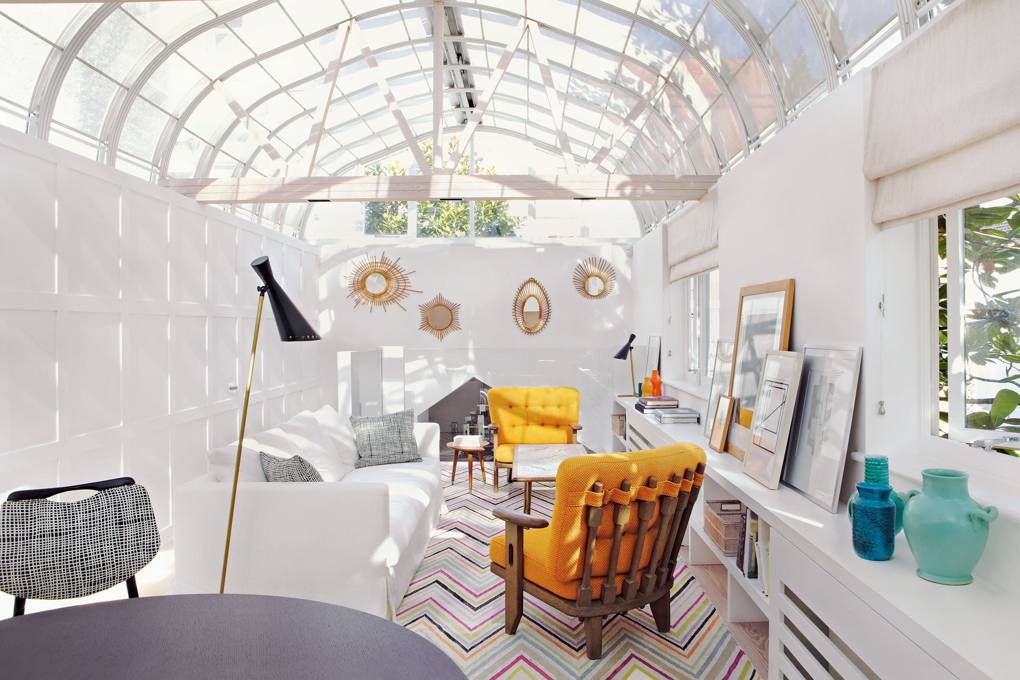 Top Tips for Small Spaces
No matter the size of your home, there are ways to make every room stand out. Both small and very large spaces are notoriously difficult to design, as one can quickly look very crammed, whereas the other can look sparse and cold.

In this guide we focus on small spaces and how to get the most out of them.

"The key with small spaces is to accept the size of your space rather than fighting it!"
Architecture
Make the most of architectural quirks in your home and opt for bespoke joinery/millwork to fit even the last odd corner. Filling awkward gaps rather than trying to buy furniture that "almost" fits is the better option. Think alcoves, under stair nooks, bay windows and sloped ceilings – there are bespoke solutions to maximise space for every corner.
By opting for custom built-ins and other millwork you can also create some great storage solutions. Shelving above doors or on the side of diving doors, as well as storage underneath benches or your bed, can help keep your space tidy and your floor clear.
One example would be to build a headboard with built-in storage on the sides or at the top, this can help save you having to install a bedside table. And, if a bedside table is key, opt for a floating shelf so the floor beneath it remains clear. With little considerations like that you can really maximise the space in a small home.
Furniture floats more in a small room, as any gap to the wall is awkward and narrow. Make sure things fit properly to avoid this.
Wall coverings / colour
Don't paint everything white – express yourself in your home and blend away bulky appliances by decorating them in the way of the millwork or walls. A seamless decor makes the space feel larger. If you are not into colour or pattern, think about keeping it neutral but add layers of texture to keep it interesting and avoid it falling flat. Darker shades in small spaces can make your room feel like a jewel box and really express your personality.
Small bathrooms/cloakrooms can be a great place to experiment and go all out with the design. Bold colour or pattern choices are perfect for these spaces as they will add drama and allow you to push boundaries with what may not naturally be a style you would choose all over your home.
Keep woodwork the same colour as the walls to dissolve boundaries of the space and incorporate reflective materials, like gloss walls or ceilings, glossy tiles in a kitchen or bathroom and mirrors. A mirror will trick the eye into thinking the room is much bigger.
Space planning
Whilst you may want to maximise space and put furniture against walls – DON'T… it screams "I don't have enough space" and giving furniture space to breathe actually makes the entire room feel bigger. Wherever possible opt for fewer items in the room, but choose statement pieces instead.
If you need to create separate rooms in an open plan space, create walls that can be moved in various different ways – curtain off areas, look at partitions that slide open and close between rooms and bifold doors that open out so can have one or two rooms. Installing a sliding or pocket door that doesn't open into a room can also help in creating more space. Crittal doors are a great way to ensure light flows through your space whilst acting as a divider. Explore the options out there, there is something for everyone!
To make sure space doesn't get cluttered, edit everything carefully to keep a cohesive scheme. There is only so much space in a small room and clutter will draw the eye for all the wrong reasons.
Lighting
Floor and table lamps are lovely, but to save surface space install wall sconces or pendant lights to illuminate dark corners or feature pieces in your home. We did a whole article on lighting recently, take a look!
Furniture
Find furniture with multiple purposes (think an ottoman as a footstool, coffee table & extra seating for guests, OR a dining table that can double up as office space, without breaking your back sitting at it) – folding furniture and hanging items like shelves can keep the floor clear.
Choose furnishings that offer maximum functionality in minimal space. For example, instead of an end bench by the bed, opt for a desk with a small chair. You can use it for work, as a dressing table, and more.
Opt for a wall desk for your office space in the living area, as it can provide shelving space above and you only need to add a chair – saving valuable space on the floor.
A kitchen island is the dream of many people, but that doesn't mean it is feasible, as such, for everyone. You don't have to give up on it completely though, as a tall wooden table or an island on wheels, depending on how small the space is can be great options to give you that extra counter space without taking up too much footprint in the kitchen. And these "islands" can double up as workstations and more in other rooms when not in use in the kitchen.
Round dining tables also save space and can look great, whilst still comfortably seating at least 4 people.
Using a daybed if you need a guest room but haven't got the extra space is also a clever way of adding another use to a room – this could be in your living room, a play room or an office space in your home and creates a multi-purpose room.
Lastly, mount or hide your TV in cabinetry to save surface space. It not only means the black box isn't taking up space, but it is also out of sight when not in use, something we always strive for when designing a space, no matter the size.
Storage
Convert a cupboard for other purposes, such as a miniature utility/laundry room. Washing machines, tumble dryers, ironing boards, and anything else you would have on display in your space can be easily disguised that way, keeping your space clear and clutter free.
Flooring
If you opt for a rug, make it a large one, small rugs will make your space feel smaller. Pick a floor covering that is large enough for most of your furniture to fit on it or go wall-to-wall. Our flooring guide can help you figure out what best suits you and your space.
Ultimately, consider the space solution over style – apply your own style once you have found the perfect solution. Adapting something to fit style wise is much easier than trying to shoehorn something beautiful but non-functional into a tiny space.
"We recently shared some tips with Redfin Real Estate in the US who featured us in their article on Small Space Design. Take a look!"
If you are interested in a professional design for your home, we are here to help. Whether you are looking for help with planning your layout, advising on furniture and storage solutions or designing the entire space. We work on small and large spaces alike!
Get in touch through our Contact page or via enquiries@monseinteriordesign.com to book a design consultation.
All our consultations are currently offered via web services and can be performed from the comfort of your own home.
Image credit: House & Garden. Design: Eve Mercier