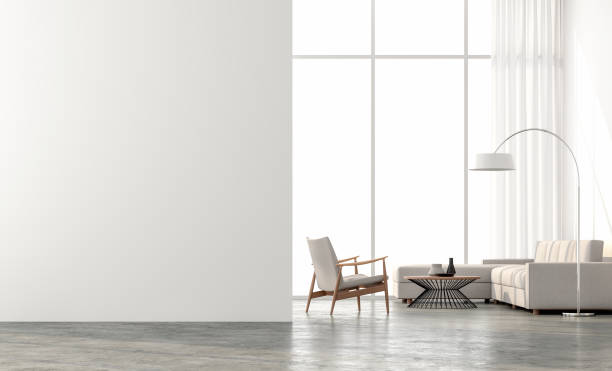 The Ultimate Guide to Flooring
Flooring – something worth investing in. We take a look at the many flooring options and highlight the pros and cons in our ultimate guide.
Choosing your flooring should happen early in the design process, as it will influence your heating choice and dictate floor levels and therefore ceiling heights. Moisture resistance and heat loss prevention are other key factors when choosing the best flooring.
Houses in the UK have typically been built with solid concrete slabs on the ground floor and boarded timber joists on the upper levels, all of which can influence the ease with which certain types of flooring can be laid.
Insulation in all floors must meet the minimum energy efficiency values set out in the Building Regulations. In England and Wales, floors should achieve a U-value of 0.2W/m²K or less, if possible. The U-value is a measure of how quickly heat travels through the floor.
Preparation
The next key consideration is the room size – make sure to measure carefully to be able to work out the surface you have to cover, if funds for flooring are important. Always factor in around 10% material wastage during installation.
You should also consider how the room will be used and by who? Will pets or children be around? Is it a high traffic area or one that needs to withstand high moisture levels? How will floor transitions be handled or will one flooring type cover a larger area in the home spanning several rooms? All of these questions will ultimately guide you in deciding on the most suitable flooring for a given space.
Underfloor heating
A popular choice in new builds, less so in renovations, due its invasive nature of installation. When choosing underfloor heating, this should be done at the same time as the main floor coverings, to ensure these are suitable for heat conduction. Underfloor heating is well suited to concrete floors and can be laid in the screed or cast directly into the concrete, which protects pipes. Good options for floor coverings are tiles and engineered woods, as well as some types of carpets with suitable underlay.
Carpet
One of the most popular floor coverings is carpet. It's warm underfoot, reduces noise and is easy to install. It comes in a wide variety of materials, patterns and finishes. It is, however, one of the least environmentally friendly options out there, due to the manufacturing process and the emission of varying levels of volatile organic compounds (VOCs). There are a variety of natural options, such as sisal, jute and coir, however, the heavy wear and tear of these can leave them unsuitable for many areas of the home.
Hardwood flooring
Wood flooring is hard-wearing, easy to clean and hypoallergenic. Wood flooring is available in a variety of finishes from ash to chestnut and comes in a variety of plank lengths. Make sure to look for FSC certified suppliers to ensure the wood is sustainably sourced.
Hardwood flooring is often one of the most expensive flooring options. Installation alone can be pricey as planks need to be nailed to a permanent floor, some can be floated on an underlay.
Natural wood is water resistant if treated correctly but engineered wood may be more practical in a kitchen or bathroom, where moisture is high.
Wood contracts in heat and expands when humid, therefore an expansion gap (10-12mm) should be left during installation.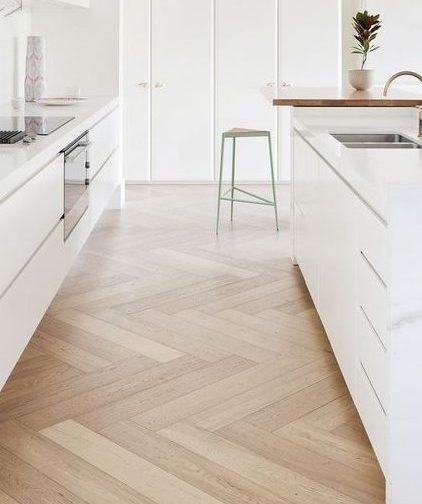 Parquet
Parquet is traditionally hardwood flooring laid in a geometric pattern. This may be in herringbone pattern, chevron or basket weave, for example. Parquet, once laid, is sanded and either lacquered, oiled or stained to protect the flooring. Nowadays, engineered wood parquet flooring is also widely available.
Engineered wood flooring
Engineered, or composite, wood flooring is produced from wood fibres and other materials fused together to create a durable flooring that resembles real wood. Engineered wood flooring often come in wider planks and can be laid on a greater variety of existing floor surfaces.
Laminate
Laminate is a synthetic alternative to wood flooring. It is usually topped with a textured wood effect image. Laminate is scratch-resistant and robust, but can't be repaired. It is easy to install as it clicks together and therefore a great choice for DIY.
Ceramic & Porcelain Tiles
Ceramic tiles are available in a huge range of colours and patterns and easy to maintain. While unglazed tiles are not suitable for kitchens or bathrooms, due to their porosity, there are many shaped options to create interest. A key consideration should be wear in high traffic areas and porcelain tiles may be a better option as these are tougher. A sound base may need to be installed and timber sub-floors may need to be strengthened to take the weight of the tiles. When choosing tiles, ensure to get samples, rather than ordering everything off catalogue or the internet, as colours and finishes can only be compared with real life samples to see and feel.
Vinyl
Vinyl is made from PVC and available in tiles or sheets. Vinyl comes in a wide variety of designs, patterns and sizes and can be printed to resemble other materials such as wood. Cushion-backed varieties are preferable to smooth finishes, as they are safer in wet conditions and also offer softer and warmer feel underfoot.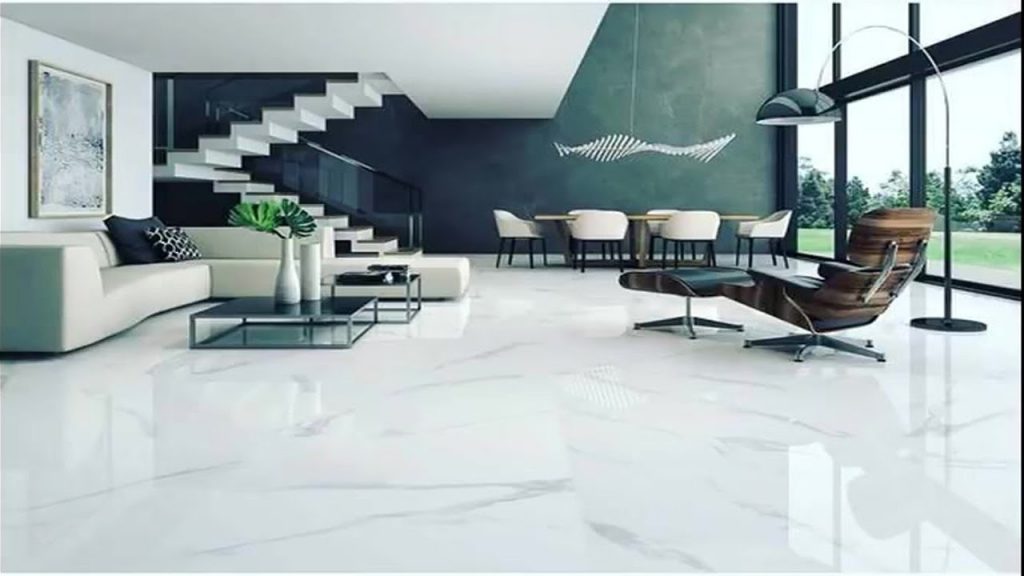 Stone
Stone flooring is hardwearing and waterproof, often used in bathrooms, kitchens, living rooms, hallways and sunrooms. Natural stone tiles such as marble, limestone and slate are very popular and can be highly attractive. Stone flooring is often cold underfoot and can be very slippery when wet. It needs to be laid on a very level base to avoid cracking and if it is to be laid on boarded surfaces, a waterproof plywood subfloor or similar (at 12mm thick) will have to be installed. Stone floors should be laid by a professional and all tiles should be bought at the same time to avoid colour differences from different batches. A key consideration with stone floors is also the maintenance, as a sealant should be applied on a regular basis to prevent staining.
Concrete
Polished concrete floors are a popular choice in modern homes and especially industrial style interiors. Concrete floors are great with underfloor heating, durable and have a long life expectancy. Both concrete tiles and poured concrete have to be installed by a professional, whereas poured concrete offers a smooth and seamless finish. Both options are available in gloss or matte finishes.
Poured resin
Poured resin is not a cheap option and has to be installed by a professional. It comes as a liquid and can be installed on most subfloors. Resin is available in any RAL colour and even comes with an anti-slip option. It is a smooth, seamless, hypoallergenic and noise-absorbing flooring option ideal for bathrooms, kitchens, conservatories and utility areas, as well as contemporary living spaces.
If you are interested in updating your home with new flooring and furniture or you are looking to fully renovate, get in touch through our Contact page or email us at enquiries@monseinteriordesign.com to book a design consultation. 
All our initial consultations are currently offered via web services and can be performed from the comfort of your own home.