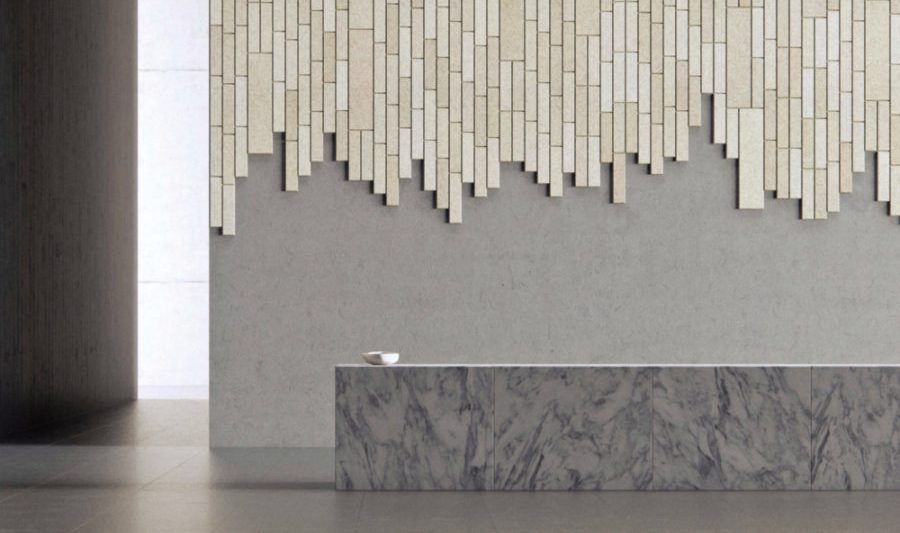 Wall Coverings – the Essential Guide
What types of wall coverings are there and how do you choose? We have put together an essential guide to help you decide which wall coverings may be right for you, and explain the pros and cons around each of them.
Much like flooring, wall coverings are part of a room's design foundation and will greatly impact the overall style and atmosphere you create.
We have rounded up our top picks for wall coverings, where to use which and what styles work well with each type of wall covering.
Polished plaster – A sleek option, for a smooth and seamless finish, polished plaster can look great with a variety of interior styles, from industrial, to contemporary and even rustic. It can be an edgy alternative to tiling. In bathrooms especially, it can create a sleek and clean look. Price wise it may not be the cheapest option but it is a durable finish.
Magnetic plaster – This is a fantastic option if you want to redecorate more frequently and rehang artwork without the need for hooks or other hanging devices. The better the magnets you use, the heavier the load it can carry. It's a great option in office spaces, to replace white boards and notice boards, eliminating the need for blu tack or pins. In residential properties, it can be great for families, in kitchens or even childrens' bedrooms. It is suitable for any property style as it can be painted in any colour and even wallpapered, although this will reduce the magnetic attraction.
Tadelakt – Tadelakt, also known as Morroccan plaster, combines specially sourced materials with artisanal technique to create a smooth, marble-like surface that can be used for walls, fireplaces and other decorative surfaces. It is a popular option in high-end luxury bathrooms, but requires specific cleaning to maintain its waterproofness.
Microcement – Microcement could be described as a chemical emulation of tadelakt. It is a mixture of common cement and special resin that can be finished with polyurethane sealer to create matte, satin or gloss surfaces. As with all plaster options mentioned above, the interior styles this works with are many. On walls, the main uses are in kitchens and bathrooms. As a flooring option, this could be used throughout the home.
Tiles (ceramic or glass) – Cement, porcelain, ceramic or even glass; tiles are a great option in kitchens and bathrooms especially and work well in any interior scheme, due to the many styles available. As a negative, you will see a grout and won't have a seamless finish with tiles, but it all depends on personal preference and the overall style of your space.
Stone – Whether it is marble, limestone or perhaps slate, the possibilities are endless when it comes to creating incredible and luxurious interior wall coverings with stone. Often a more costly option, it can be one that stands the test of time in terms of wear and style. Marble clad bathrooms are very special and the veining of marble, as it occurs naturally, is one of a kind. Visiting local stone yards is worth it when you are looking to select the perfect slab, you may just find a real gem and the process of hand selecting it makes it all the more special.
Wainscoting (wood panelling) – Panelling is a bit like marmite, you either love it, or you hate it. It is, however, a truly versatile option of wall covering that can create art installation-like finishes. Wainscoting is a great option in period properties to add character but can also be used in more contemporary schemes with slatted finishes to the walls or textured panels, blocks or carvings to all or part of a wall. Wood types used also vary depending on whether the wood will be treated, painted or left for a weathered effect. On the downside, wood needs to be maintained in order to continue looking its best, so it is not an install-once-and-be-done-with-it option.
Cork – As a natural material, cork is an extremely sustainable option for wall and even floor coverings. Sound deadening, it can also improve acoustics of a room. As a renewable material cork also comes at a lower price point. Cork can be used in panels or as a whole wall cladding to create natural looking surfaces full of beautiful texture. One consideration with cork would be to seal it properly where it joins on the seam to ensure its natural water-resistance can be maintained even over larger areas.
Metal panels – Metal panels are great as splashbacks in kitchens, but can also create stunning features in any room. Panels don't need to be thick and solid but can be intricately laser cut and backlit or hammered for stunning effects. One consideration is that metal will age depending on the finish and this may result in the wall covering to change appearance over time. There are ways to prevent this but it is worth looking into from the start to avoid disappointment over patina, if thi is not something you like.
Fabric/textile/leather – Silk or leather are very luxurious wall coverings and can create amazing finishes. The subtle sheen of silk as well as the soft texture of leather create a visual focal point in any room. Fabric wall coverings like silk can be stretched or draped depending on the desired finish, and therefore resemble wallpaper in many ways. Leather on the other hand is used more like during upholstery with the wall almost becoming a giant upholstered piece in the room. Maintenance is the one point to mention though as silk for example is a fragile fabric, prone to snags and easily stained. This is not an option you want to consider with small children. Leather will age and if the covering is in a high traffic area, may become softer over time due to brushing up against it. It can however be a great option if you have banquette seating to cover the entire wall in leather for an oversized bench backrest.
Wallpaper – Printed, washable, vinyl, foam vinyl or flock – wallpaper options are plenty. From plain to blousy feature wall motifs, wallpaper can be a great option to add colour and pattern to any room (yes, any! – even bathrooms have been seen with wallpaper and the addition of special glass panels to protect it from moisture in the shower area). Wallpaper is an easy option in terms of application and many people will do this on a DIY basis. With intricate or delicate wallpapers though, it is advisable to hire a professional to ensure the best possible finish – nothing worse than a pattern not quite lining up or a delicate wallpaper tearing slightly, leaving an unsightly edge.
Paint – Less a wall covering as such, but one of the easiest ways to update your interior and add some colour. Paints are available in a myriad of colours and finishes, including washable, bathroom and kitchen paints, wood and metal, vinyl and anything in between. Take a look at our guide on Designer Paints to find out more on this.
If you are interested in a professional design for your home, we are here to help. Whether you are looking for help with your interior styling, planning your layout, advising on furniture and storage solutions or designing the entire space.
Get in touch through our Contact page or via enquiries@monseinteriordesign.com to book a design consultation. 
All our consultations are currently offered via web services and can be performed from the comfort of your own home.