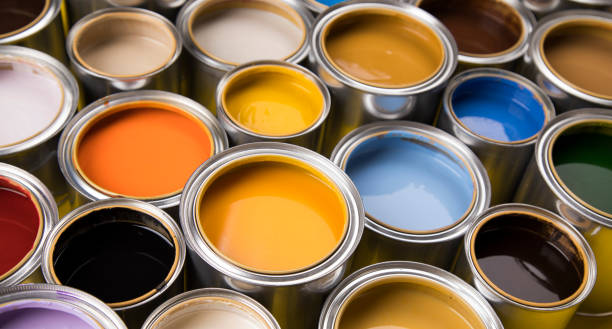 Are Designer Paints worth the money?
Discover the five reasons why you should consider designer paints as an affordable alternative to ordinary paints – yes, it may sound odd calling them affordable but stay with me.
Designer paints are considered a luxury but there are a few important details to know about them:
Higher levels of colour pigmentation
Little Greene for example contains 40% more pigment than ordinary paint. This means increased colour complexity, greater depth of colour and rich tonal variance. As light changes throughout the day, so does the colour. Something that can really transform your room, as the colour adapts to the time of day and becomes much more than a flat matte interior wall paint colour.
Higher coverage rate
Even though the tin you are buying may contain the same amount of paint, for more money, you will be able to cover more area with it as well. Fewer coats of paint mean you get more for your money, as one coat may have higher opacity than your average high street brand of paint. Overall, you spend less time painting and have greater money savings, as less paint is required with fewer coats to apply. Often, although not always, ordinary interior wall paints can be a false economy, as you need more. It is worth researching paints well before you purchase and always order a tester pot to be absolutely sure the colour you have chosen is the right one for you before you commit to buying larger amounts.
Use of higher quality materials
Designer paints contain high-grade titanium dioxide – a pure white powdered pigment that covers extremely well. Many lower grade interior wall paints use cheaper alternative fillers such as synthetic silicates, polymers, clay, talc and carbonate. These do not cover as well, so you will require a lot more paint to achieve the same coverage. Ordinary paint with cheaper fillers have therefore reduced quality.
Colour choice
It may seem like designer palettes are limited, but heading to a showroom can often reveal the thousands of available colours from a designer brand. They may not publicly market all of these, or showcase them on their website but many have archive collections, such as Farrow & Ball, still included for purchase.
When you look at brands such as Benjamin Moore, the choice really is incredible and the nuances you can find in colour are second to none. When it comes to colour choice, designer paints may offer the greatest variety of all, sometimes even offering bespoke paint mixing, so nobody has the same interior wall paint colour as you – talk about making your home stand out and truly unique!
Pre- and Aftersales
When opting for designer paints, you also get what you pay for in terms of service. Colour consultation services, colour cards, online guides and larger sample pots are just a few of the services offered by designer paint brands. Aftersales also ensures you are satisfied with your product, provided you purchase through the store or website directly.
"No matter what paint you opt for, you get what you pay for, and sometimes paying that little bit extra can be worth it in the long run!"
If you are looking to update your home, make sure to check out our other blog posts, providing you with tips and tricks on how to achieve your dream space.
If you would like that extra bit of help from a professional, get in touch through our Contact page or via enquiries@monseinteriordesign.com to book a design consultation.
All our consultations are currently offered via web services and can be performed from the comfort of your own home.