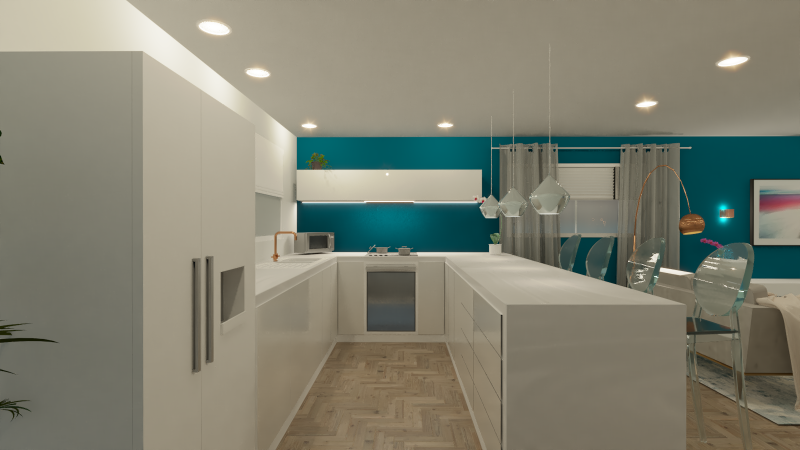 Planning an Extension – what you need to know
As lockdown restrictions are coming up to their one year anniversary, many people have resigned themselves to the fact that this year, like the last, will be a year for staycations and home improvements.
With that in mind, extensions and renovations have become a hot topic in the interiors world.
We focused on renovation projects in our August post last year, highlighting 10 of the key things to watch out for when planning a renovation project.
2021 is set to be the year of the kitchen extension, so what better to focus on than extensions and the many hurdles you may have to overcome to get that dream space.
When it comes to extensions, planning every detail of the work is key. Below you will find a comprehensive list of the steps to take with indicative timelines for a straightforward extension – and I use the word "straightforward" with caution, as nothing is ever really that simple.

Know exactly what you want AND what you can afford
There is nothing more frustrating than handing your carefully curated Pinterest board to an Architect only to discover that none of the design is within your budget.
Instead, make sure you have a clear idea of your priorities, "why" do you want an extension? And what does it give you at the end of the day?
A comprehensive brief for your Architect is the best starting point and will help ensure that you get what you want and are able to pay for it all.
An Interior Designer can help you even in these early stages to create a tentative design that really works for you and might save you on Architect fees, as initial drawings can be created by the Interior Designer.
We began a project during lockdown last year and have been engaged with the Architect directly to get everything designed in line with the client's wishes. The plans were approved as designed by us and Building Control drawings are now in progress.

Timing wise, initial Architect drawings can take weeks to several months, depending on the scale of the project, and further drawings are required for Building Control, which again take 2-3 months in most cases.
Engage local planning authorities early on
A great big extension is one thing but the fight you may have on your hands to get it through planning is another. For best results, visit your local planning portal to view other applications that have already been granted in your area. Precedent is a great way to get your plans approved, and who knows you may find some inspiration in other people's plans that make yours work even better for you.
Another TIP to help get the neighbours on board before you even submit for planning is to let them know about your extension plans – this can be in person, or if you are doing so during lockdown, in writing. It's a matter of courtesy and can help speed up the approvals process with your local Council, if you have no objections.
Timing wise, planning authorisations should take around 8 weeks from submission but may vary depending on your local Council. It's advisable to find out about this before starting your project and liaising with professionals on this.

Know the different professionals you will have to engage (BEFORE the build even starts)
An Architect isn't the only professional you will need. Many extensions require added steel to hold the building when a load bearing wall is removed – and in comes the Structural Engineer. A further set of drawings in addition to the ones for planning approvals will be created by the Structural Engineer which will then inform the Architect with regards to the Building Control drawings.
A lot of drawings are required before you even get to engage any tradesmen.
The drawings for Building Control from your Architect, alongside the Structural drawings will be used by building contractors to provide quotes for the works.
Another key element to consider, if you are building up to your border, is the Party Wall Act, which your Structural Engineer can help you with. You will have to send a Party Wall Notice to your neighbour to ensure everything is in order regarding their house and your extension in close proximity.

Start your FF&E search early
There is nothing more frustrating than receiving planning approvals and getting unstuck at the Building Control stage. To help you sail through as smoothly as possible, ensure to have your Interior Designer source all fixtures & furniture as early as possible, as kitchen and especially bathroom layouts will have to be signed off by Building Control. This could set you back several months, if not prepared in a timely fashion.

Find the right contractors
Going out to tender can be a drawn out process, but it is a vital step in finding the right people for the right price. That's not to say, the cheapest quote is necessarily the best, but you should aim to have at least 3 independent quotes from builders before signing on the dotted line.
Word of mouth is one of the best ways to find reliable and quality-oriented building contractors. There is no greater praise than that of a previous client. Often your Interior Designer has contacts they can recommend, as well as being able to help with the tender process, preparing documentation and evaluating quotes.

Aside from building contractors, you will have to consider an electrician, plumber, plasterer and likely a joiner or carpenter, depending on your project. On top of that a handyman or decorator may be needed to finish off some of the jobs post build.
Often your chosen building contractor can introduce you to other tradesmen, but again, as a general rule, you should get some additional quotes in to see if the job could be done at a better rate or whether someone else might be more knowledgeable and therefore better suited to the job.
Think of it as being a very diligent HR Manager, trying to find the very best people for the job.

Timing wise, it's best to get building contractors involved for quoting as soon as you have the finalised Architect drawings for Building Control. Most builders are booked for months in advance and your project may be delayed.
Project Managing the build
Once you have chosen your tradesmen to complete the build, this will need to be monitored and the different jobs need to be carefully coordinated. Schedules of work, created by your Interior Designer or Architect (depending on the scale of the job) will aid with the work distribution and order in which the works need to be carried out. A Project Manager should be assigned to monitor this.
This could be your Interior Designer or Architect or you may choose to oversee the works yourself.

Snag lists
Not everything may be up to scratch once complete and it is important to create a snag list as soon as possible to have contractors fix any issues before you sign off on their work and pay the final invoice. This list may be created by your chosen Project Manager, or you, but it is important to liaise with the relevant tradespeople on the issues identified to find the best solution to fix it.

Interior finishes
Once all building work is complete, it's time to tackle the interior.
For bathrooms, your Interior Designer may have been liaising with your plumber to ensure all fittings were installed as planned.
Your Interior Designer will generally have been involved from the start but only once build is complete will they be your main contact to finalise everything. Furniture, fittings and other finishes will usually be delivered straight to site, so that everything can be implemented according to agreed floorplans. If you had a kitchen extension, white goods may also be part of this.
Decorator, carpenter and handyman may also be part of the Interior Design phase of your project to ensure everything is finished as planned by your Designer and signed off by you prior to build.

Building your dream home is a big endeavour, and an extension can give you the space only a house move could provide otherwise. Enjoy the process, it's something to be proud of for years to come.

If you would like to discuss your extension project or find out more about the different ways we can help you plan out your dream home, get in touch through our Contact page or via enquiries@monseinteriordesign.com to book a design consultation.
All our initial consultations are currently offered via web services and can be performed from the comfort of your own home.