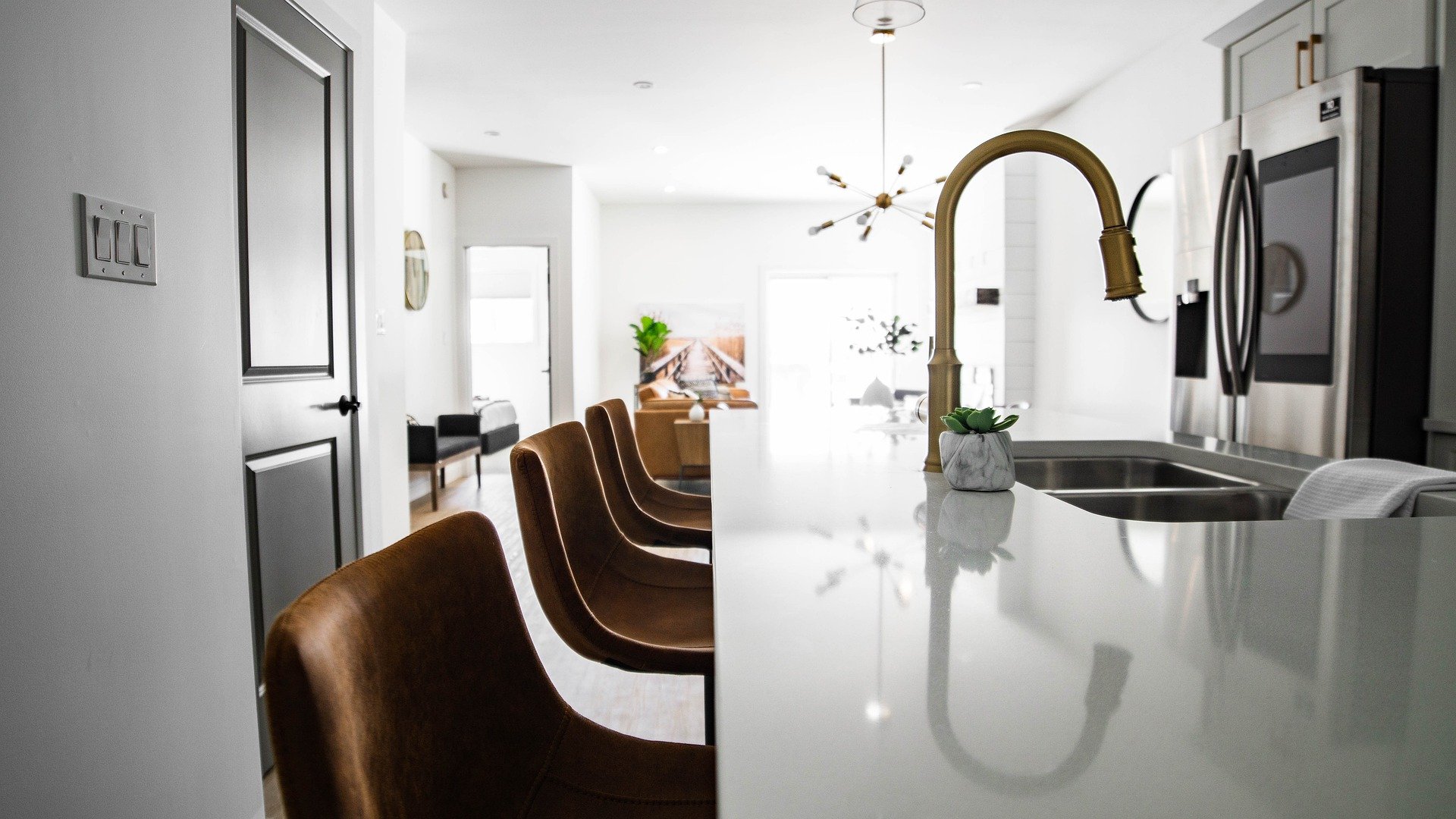 Kitchen Design – 10 things to consider
A few weeks ago I shared my top tips when it comes to extensions – with a key focus on kitchen extensions in 2021. Now is the time to discuss the actual kitchen design.
There are many ways to tackle the kitchen, but no matter whether your home is traditional, eclectic or contemporary, a few things are always the same in a kitchen.
In this guide, we will look at the different ways you can lay out a kitchen, handy storage solutions and the many styles kitchens come in.
Layout
Probably the most important thing to think about is how you actually use the space. This greatly influences how you design the layout. Is your kitchen the hub of entertainment and do you need an island with a little bar section, perhaps? Or is your kitchen really just a place to cook, tucked away from living and entertainment spaces. (We'll go into more detail on kitchen vs kitchen/diner combo later.)
There are a few basic layout rules you should follow to ensure optimal flow and sufficient space within an aisle. See below for a quick illustration of the basic kitchen layout options.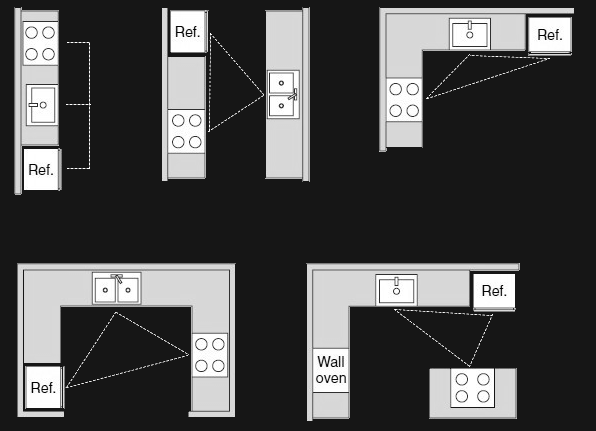 Space within an aisle and between opening appliances is key, and depending on the layout you choose, or are able to accommodate in your kitchen, make sure you have certain appliances within easy reach. The magic triangle between sink, fridge and hob is the most important thing to consider when thinking about where to house which appliance. You wouldn't want to drag your vegetables half across the room from the fridge to the sink to the hob. It's important to have these near one another to maximise efficiency in the kitchen.

As for maximising space within an aisle, integrated ovens, for example, nowadays come with sliding doors which hide within the unit so nobody walks into an open oven door. There are many ways to ensure you have a good meter of aisle space which is something you should absolutely aim for. Nothing worse than not being able to have two people in the kitchen at the same time.

Counter space
Aside from storage, see below, counter space is one of the most crucial elements in the kitchen. Not only do you keep the kettle, the toaster or any other gadget on there, but it is also the prep station or sometimes, the breakfast bar. Whatever use it has in your home, make sure you have enough counter space to accommodate all your needs. Space either side of the sink and next to the fridge and hob are the main areas so you have prep areas near every main station. Moveable islands on castors can be a great way to give you extra counter space that can be pushed to the side when not needed, giving you flexibility when it comes to your layout – it can also double up as a bar or for entertaining with a couple of bar stools.

Storage
Probably the most needed thing in a kitchen – do you have sufficient storage space for all your pots, pans, plates and most importantly food?
Larders are a great way to add storage through tall cabinets. If you don't want floor to ceiling cupboards, shelving or wall-hung units break up the space and still give you the storage option.

Beware: when opting for open shelving, it does look incredibly pretty, but requires a strict cleaning schedule for anything on the shelves to look its best at all times.

Electrical points
Often an afterthought, electrical points can be a key consideration when designing a kitchen. Make sure you either stick to a current layout and only update cabinetry or add a bit of rewiring to your budget to allow for new sockets to be fitted where you need them.
Especially when renovating, it's important to have a clear vision of what your kitchen will look like at the end before any works start. Consider integrated or freestanding hob, ovens, fridge/freezer, kettle, toaster locations, as well as the cooker switch for the hob itself, as this will need to be in the right place for your hob to be moved to your desired location.
We would usually design the furniture layouts and then provide electrical and plumbing plans alongside this to ensure trades are aware of what's required of them to make the project come together.
Integrated vs freestanding appliances
The question whether to choose freestanding or integrated appliances can only be answered by looking at the overall scheme. For example, integrated units will look better in a sleek, modern kitchen, whereas freestanding units such as an Aga best suit country style or traditional kitchens. This isn't to say that you can't break these rules. If a freestanding appliance is what you want in a modern kitchen, then there are ways to make it work. Especially fridge/freezers can be easy to incorporate in a scheme, even if freestanding.

Built-in vs freestanding cabinetry
Similar to the appliance question, cabinet units can be built-in or freestanding. Cost-wise there are differences when it comes to this and for many this may be a key deciding factor. However, the look achieved with each option is very different and built-in units have become more commonplace today. Freestanding units are an easy option, however, if you want to avoid pricey fitting costs, as well as being able to change up layouts much easier in the future.

Lighting
Ambience balanced with sufficient task lighting is what you want to aim for. If you have a kitchen/diner this is especially key. Having light to complete the work in the kitchen, as well as creating an atmosphere for dining and entertaining can be achieved with different light mediums. Track lighting has become very popular as well as a combination of recessed lighting with pendants. Dimmer switches are also a great choice, as they allow you to switch up the mood with the turn of a tiny dimmer switch.
Worktops
When it comes to worktops you have all the choices nowadays.
Depending on the look you are trying to achieve you may choose one material over another. Equally, you should consider the characteristics of each material and choose whichever best suits your lifestyle.
Your general choices would be between quartz, porcelain, granite, solid surface, such as Corian, and of course timber. Quartz, porcelain and especially solid surface materials are fairly low maintenance, whereas granite and wood, as naturally occurring materials, require maintenance during their lifecycle. The choice is yours and you should consider every aspect of a material before deciding.
Kitchen vs Kitchen/diner
With the kitchen as the center of the home in today's modern world, cooking, eating and entertaining often come together in the kitchen. If you are fortunate enough to have an open-plan living space, a kitchen/diner can be a great option to have the whole family join you whilst cooking. You could even try and add a family room or play area for the kids.
If you prefer a separate dining room, the option of a breakfast bar can give you the best of both worlds. It can serve as the breakfast hub, as well as the evening bar when entertaining friends. Again, as mentioned above, a moveable island or breakfast bar can help to save space.
Colourways
Finally, a word on colour in the kitchen. People have often liked the idea of a colourful kitchen, but when it comes down to it the safe option is what most choose. Over the past years this has shifted and more and more bespoke coloured kitchens can be found all across the nation. As long as you choose a colour you know you love or opt for wood cabinets that can be easily repainted when you feel like changing it up, colourful kitchens are a great statement in any home.
This isn't to say that you cannot opt for a subtle or dare I say it, plain, kitchen. Understated kitchen design options can be very impactful if, for example, the overall look is very clean and modern.

Designing a kitchen is a very personal matter and you should plan out every detail carefully. A kitchen is a long term investment.

If you would like to discuss your kitchen project or find out more about the different ways we can help you plan out your dream home, get in touch through our Contact page or via enquiries@monseinteriordesign.com to book a design consultation.
All our consultations are currently offered via web services and can be performed from the comfort of your own home.