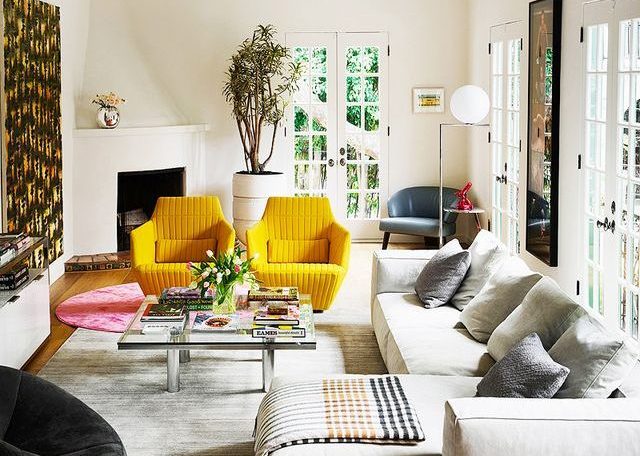 Living room design – 5 tips for a stylish home
A living room can be both stylish and cosy – and yes, you can even have a stylish space with children!
There are a few fundamental steps you can take to ensure your home is functional as well as stylish and I am going to unravel these for you in the below.
Layout
The bare bones of the space are as always our starting point and measuring twice is key here. You may have fallen in love with that large corner sofa, but will it fit in the space and more importantly will it fit through the door?

It's easy to get carried away with furniture choices when moving into your new home or redesigning your current living space. Knowing the dimensions and being aware of the different movements in a space is key to creating a functional yet beautiful interior. This is true for any room in the house.

Having taken measurements you are now armed to create a floorplan – there are many simple tools online or you can pass the details to your interior designer who will use CAD software to create a floor plan and furniture layout for you.
This may also include movement plans to see how people will be using the room and where you have high traffic zones. More on furniture spacing below.
It's important to decide whether the space will be used to relax and watch TV or whether it will be used more for socialising. Ideally, your TV should never take centre-stage but be slightly hidden from view when entering the room but if it is a space to relax and watch TV you will want your furniture layout to reflect this.
A living area for socialising for example may focus on how people can communicate with one another an facilitate eye contact. So you may have two sofas or a sofa and some armchairs facing each other.
Whatever the space is used for, it needs to be functional before you can tackle the aesthetic side of things.
A quick and easy tip to ensure your furniture fits in your space is to use masking tape and tape the item size up on the floor. This will allow you to get a sense of scale. If you want to take it a step further you could use cardboard boxes to even simulate the height.
Checking if furniture comes fully assembled or just part assembled and sizes thereof will also help you determine whether it will fit through the front door, the corridor or up the stairs. Sometimes a quick call to the manufacturer can be all it takes to save time and money.
Furniture
This is probably the most exciting element for many people – choosing a new sofa, coffee table, TV bench etc.
As briefly touched upon above, knowing how the space will be used and who will be using it is key. If people use a path in the room to get outside, for example, you lose a good meter to allow for this. Same with the coffee table, you will want to allow sufficient space between the sofa and the coffee table to comfortably maneuver through, or in the case of an ottoman, to put your feet up.
Generally, allowing between 50-100cm between furniture items will allow for comfortable movement in between. This will of course depend on your overall available space and you may find that you will have to opt for longer narrower furniture in an old Victorian Terrace in London, as opposed to a detached country-style property in Sussex.
We would always conduct an in-person or video site visit to get a sense of the overall space.
Top tip with children, opt for easy clean upholstery fabrics. You would be surprised but you can have a white sofa if you choose the correct fabric. As a minimum we would recommend having your sofa and soft furnishings scotchguarded to prevent staining.
Flooring
Flooring can be tricky, as you want to ensure it is easily maintained (and cleaned), as well as aesthetically pleasing.
The options between hardwood, laminate, concrete, exposed floorboards or fully fitted carpets (to name but a few) leave many people undecided. Add to this the choice of underfloor heating and the decision becomes even harder.
As a rule of thumb, I would suggest to only opt for underfloor heating if you are building from scratch or taking up the floors anyway, as it is a costly affair to dig up the floors otherwise. Alternatively, you can get underfloor heating mats, which are less intrusive but provide a similar feel underfoot and are widely available nowadays.
Carpet is often considered a sensible option with little children, whereas hardwood or laminate may be better suited for pet owners, thanks to its easy cleaning.
Personally, I prefer hardwood flooring which can be softened, insulated and noise-cancelled through layering of rugs. This can also work with children as rugs are just as soft as carpet and can provide similar insulation properties with the right underlay.
Window treatments
Window coverings are an important feature when it comes to creating a cohesive and homely living room. With options such as Venetian blinds, Plantation shutters, Roman blinds and above all curtains, it is important to decide early on in the design process what look and feel you want the room to have. Window coverings can convey different atmospheres. A Venetian blind is a very contemporary choice, similar to Plantation shutters (a timeless classic) which allow the window to be minimally dressed, keeping focus on the furnishings instead.
Voiles can provide a much more delicate look and add a layer of texture to the room, whereas curtains provide a much softer and more sumptuous look overall. Especially in traditional interiors curtains are often the window treatment of choice.
The orientation of your living room may also impact the choice of window coverings as North facing windows may benefit from lighter coverings to allow more light in. South facing windows on the other hand may need stronger protection from the sun and may therefore be dressed with blinds and curtains or voiles to provide more choice throughout the day, as the sun passes through.
Storage
To ensure there is plenty of storage look at where you have dead space. Do your stairs ascend in the living room? If so, there may be a way to create added storage underneath the staircase. Drawers and cupboards can often be created underneath.
Alternatively, storage ottomans and chest coffee tables can be a great option to hide magazines, remote controls and children's toys.
Even shelving can provide storage opportunities with crates and other vessels hiding things you would rather not display.
An alcove is the obvious way to create shelving and bespoke cabinetry. It's a classic look, especially, when you have two alcoves either side of a fireplace.
If you are interested in a professional design for your living room, we are here to help. Whether this is planning your layout, advising on furniture and storage solutions or designing the entire space.
Get in touch through our Contact page or via enquiries@monseinteriordesign.com to book a design consultation.
All our consultations are currently offered via web services and can be performed from the comfort of your own home.
Take a look also at our posts on kitchen design and bathroom design.