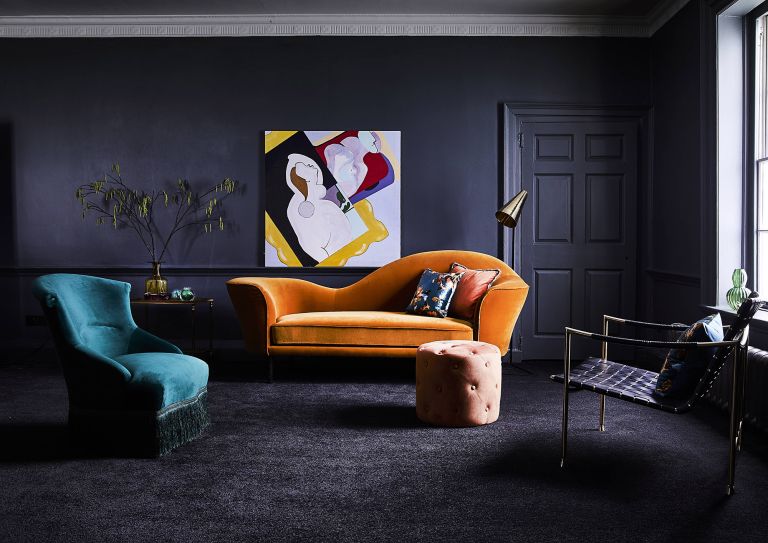 Colour Psychology – Black
Black as the night…

A colour, or rather non-colour, not to be forgotten about. For many a glamorous, elegant and sophisticated option it can also convey authority and seriousness. Fully light absorbent, black reflects nothing back. An air of mystery can often be associated with it as well.
Combine it with the right accessories and you have a winning combination, but caution should prevail as it can also appear cold and unapproachable.
In Interior Design it is however one of the most intriguing colours to use, from bedrooms, to bathrooms and even kitchens. Combine it with vibrant accessories and these will stand out all the more against the darkness of the black.
We take a look at the many uses of black in action to see how you can make it work in your home.

Bathrooms
Whether you opt for black slate tiling with vibrant accessories like plants and towels, or you are more drawn towards a black bathroom suite, there is something to suit every taste when it comes to black bathroom design and it is certain to stand out from the crowd.
If you can't imagine yourself with a black bathroom, try using black in your downstairs W.C., the small space is not just forgiving but the impact of colour and pattern choices is amplified.

Living rooms
Black living rooms can be bold, with vibrant colours dominating the dark space, as seen in this gorgeous first example. Contrasting teal blue and orange furnishings, alongside bright artwork, stand out against the all black backdrop of walls and carpet. A true statement.
On the other hand they can be calm and sophisticated with natural wood and tan leather accents. The use of white for cornices, architraves and window frames makes the black walls and flooring less intimidating and brightens the room as a whole.
Whether you are team bold or team calm, black can be a great option for a living space and really sets the tone for the rest of the house.

Bedrooms
Image credit: Interior Design Ideas
A black bedroom may not seem so daunting, it's a place of peace and quiet and black as a dark colour aids with rest. Both examples shown here take a different approach, a more modern, clean and crisp space, that seems elegant and chic vs a scandi inspired, more cosy room with warmer accents.
Black in a bedroom can be incorporated in many ways, from bedding, to walls, black and white artwork or even black furniture. In the right proportion, black can transform your bedroom into a peaceful haven that suits your individual style.

Kitchens
Image credit: DJDS via Elle Decor
Image credit: Artistic Designs of Living via Elle Decor
Black kitchens have become more and more common nowadays, as people back away from the all white clinical look. Again, as with all other rooms we looked at, kitchens can appear elegant and sophisticated or down to earth and even rustic. As black acts as a blank canvas for colour and material, what you combine it with is what will dictate how it is perceived. Warm wooden elements for example will create a more homely feel, whereas glass and crisp white furniture accentuate the sharpness of black and the luxe and elegance it can exude.

Explore what works for you and don't be afraid of crossing over to the dark side – you might find it sets your interior really apart from the rest!

For more details on the colour black, take a look at our black and white colour blog from a few months back.

If you would like to discuss your next project or find out more about the different ways you can incorporate black into your interior, get in touch through our Contact page or via enquiries@monseinteriordesign.com to book a design consultation.
All our initial consultations are currently offered via web services and can be performed from the comfort of your own home.