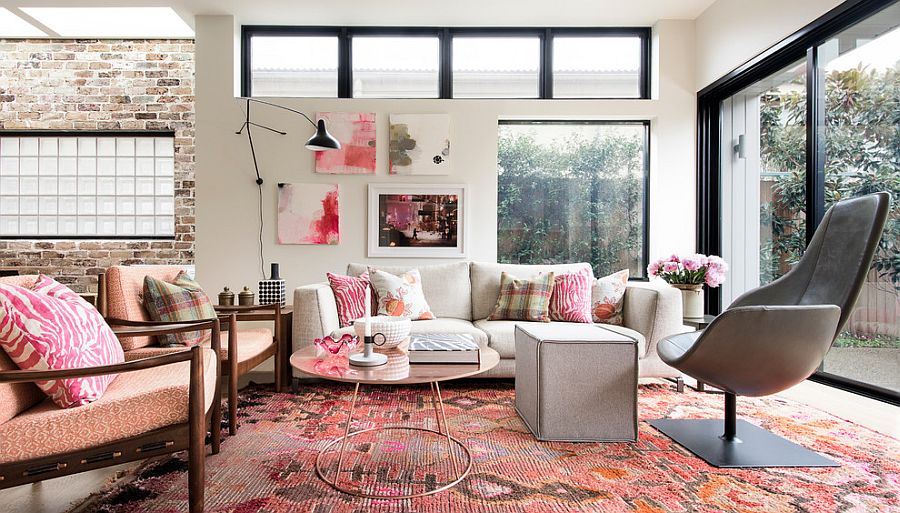 Colour Psychology – Pink
Dusty pink, baby pink, hot pink, magenta… the many tones of this colour.
Pink as a colour is often associated with girls and women and can seem weak and helpless. It is, however, also the colour of nurture and caring and tender love. As opposed to the passionate love associated with red, this colour focuses much more on empathy.
The tone of pink, however, also plays an important factor when it comes to deciding what's right for a space. Softer warm pinks are more soothing, whereas magenta, for example, can appear quite feisty and empowering. The right tone can make all the difference in a space, depending on what mood you are trying to achieve.
Below are some examples of pink in action. It will become apparent where which tone works and why, if we look closely at the use of a space.

Bathrooms
A soft pink bathroom may not be everyone's cup of tea but with the return of coloured bathroom suites it is certainly not one to dismiss too quickly. The soothing effect this pink has, creates a tranquil and relaxing space, something we all strive for in a bathroom.

Living rooms
Image credit: Decoist (Brett Mickan Interior Design)
Image credit: Decoist (Heather ODonovan Interior Design)
Image credit: Decoist (Anthony Baratta)
Pink living rooms can range from more subtle accents, combined with neutrals to vibrant colour displays or pastel delights throughout the entire space.
With the more subtle accents, it's noteworthy that these are less calming and more energising, as they can be brighter tones. On the mid-spectrum this is the use of vibrant pink on top of more subtle tones, as can be seen in the second image. The mellow tones blend into the background with the magenta chair taking centre stage.

Bedrooms
Bedrooms can quickly feel excessively girly in pink, but there are ways to create a feminine or more neutral atmosphere with the selection of the right tone. The first example showcases a wall in salmon pink, which doesn't necessarily have feminine connotations. Combined with hues of blue it becomes a very grown up and elegant space.
Similarly, image 2 with the mix of blue and pink has elegant flair, yet becomes much more feminine through the use of blousy bold blossom print wallpaper.
FInally, our last example showcases the most neutral of the pink bedrooms, with plaster pink walls setting the backdrop for grey, natural wood and gold. In combination, this creates a sophisticated and understated, almost cool bedroom.
It just depends on the tone you choose and what you combine it with. No two colours are the same and a bedroom is a very personal space that should reflect you and provide you with the rest you need.

Kids' rooms
Kids' rooms in pink are typically what we associate with little girls but there is a wide variety of options when it comes to pink touches. From bold vibrant pink ceilings and geometric rugs, creating an almost Latin American feel, to soft hues of pink combined with grey.
Comparing image 2 and 3 alone, the concepts are very similar – muted neutral grey walls, white accents and a touch of subtle pink. But on closer inspection, the room in image 2 appears much more polished, clean cut and bright. This is due to the tones of grey, pink and white used. All of which are cooler as opposed to the warm grey, pink and whites employed in room 3. Natural wood in this also adds to the warmth and makes the space feel much cosier – creating a subtle bohemian vibe.

Kitchens
Image credit: Instagram (Mad about the House)
Image credit: Interior Design Ideas
Image credit: She Look Book
A pink kitchen can be a real statement but aside from cabinetry what can you do to inject this colour into your hub of the home?! The walls are a simple choice and easily repainted to match your chosen scheme. Kate Watson-Smyth from Mad about the House in image 1 showcases her updated kitchen walls in Mylands' Threadneedle, a very subtle pink, that's barely there. On the other end of the spectrum is the kitchen in image 3, where a much warmer and darker shade of pink has been used. Together with the black cabinetry it's a real eye catcher and doesn't feel too girly at all.
The girliest of the three has to be kitchen number 2, clean cut in white with more of a candy pink on the bar stools drawing the eye. Classy, feminine and timeless.

For more inspiration on how to use pink, especially its pastel tones, take a look at our previous Pastel colour blog.

If you would like to discuss your next project or find out more about the different ways you can incorporate pink into your interior, get in touch through our Contact page or via enquiries@monseinteriordesign.com to book a design consultation.
All our initial consultations are currently offered via web services and can be performed from the comfort of your own home.