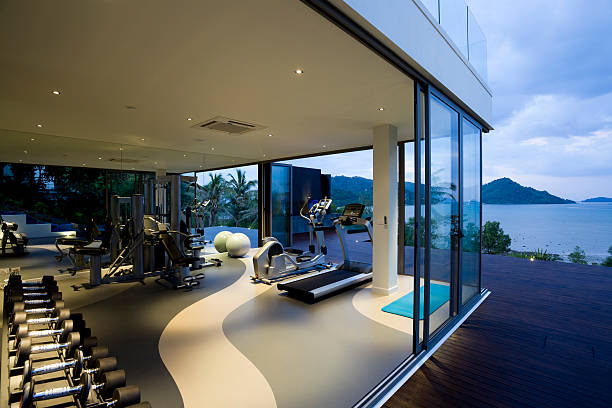 Luxury Home Gym Design
Luxury home gyms have become a staple in many homes. We recently looked into multi-purpose rooms and the home gym is certainly up there as one of the most desired rooms to add to a home.
But, what makes a luxury home gym luxurious? We are delving into how a home gym becomes a haven and what to look out for when sourcing equipment and materials.
Where you decide to house your gym is probably the first hurdle. Should this be within the property itself, the garage or a bespoke outbuilding? We touched on this in our recent multi-purpose room design post.
Ceiling heights may be a key deciding factor when it comes to pinpointing the gym location in a property. Depending on the client's discipline preference, tall ceilings for weight lifting may be a prerequisite. It's key to establish a client's workout preferences from the start to be able to advise accurately.
Style over substance is one of the main pitfalls. A home gym first and foremost needs to be functional. This is not to say that it cannot tie in with the interior design of the rest of the house if equipment is customised or a brand chosen that offers flexible design.
Firstly, it's key to consider what equipment a client will actually use to ensure flow and enjoyment of the space. This then leads to the choice of equipment and layout thereof. It may be prudent to choose dual use weight machines and fold away rowers/ bikes to ensure floor space is maximised and all activities catered for.
Essential equipment should be multi-functional or discipline specific and can often be customised/personalised through materials, finishes and upholstery. Bespoke storage solutions can also be created which may either make use of existing architectural features, such as alcoves, or these can be bespoke built to keep floorspace clear.
Using luxury materials with durability ensures an aesthetically pleasing look whilst guaranteeing that it will last many years.
Aside from the actual gym equipment, there are further interior details to consider:
Flooring should be appropriate for working out, with dedicated zones as appropriate to the discipline of workout. This could range from rubber matting for shock absorption to wooden flooring. A sustainable option would be reclaimed hardwood flooring, for example, which has a great aged look whilst remaining incredibly durable.
Mirrors are another key feature and shouldn't be missed in a luxury home gym. Rather than wall-to-wall mirroring, as can be found in commercial gyms, framed mirrors provide a much more luxurious option which can tie in with the interior design of the remainder of the property. Oversized backlit versions are particularly useful, as these provide good visibility whilst also contributing to the overall ambience of the space.
This leads us to lighting, something that's not only imperative in a gym, but throughout the home. From natural light and ventilation through windows, to task and ambient lighting from artificial light sources. Careful selection of light fittings and fixtures, as well as decisions around how each area should be lit to provide focus, helps zone the space and creates flow throughout the gym. Opting for dimmable lighting can further aid in setting the mood in the workout space.
Lastly, a superior entertainment system shouldn't be missed in a luxury home gym. This should include screens for workouts and favourite programmes whilst working out, as well as audio to allow the client to play their favourite music whilst working out. Key here is to consider the location of the gym and take into account that sound proofing may be required.
"Luxury home gyms are a great addition to a home, and a long term investment. Staying active in your own home in style has never been easier."
If you are looking to add a home gym or update your home, make sure to take a look at our guides for each room in your house, or get in touch through our Contact page or via enquiries@monseinteriordesign.com to book a design consultation. 
All our consultations are currently offered via web services and can be performed from the comfort of your own home.