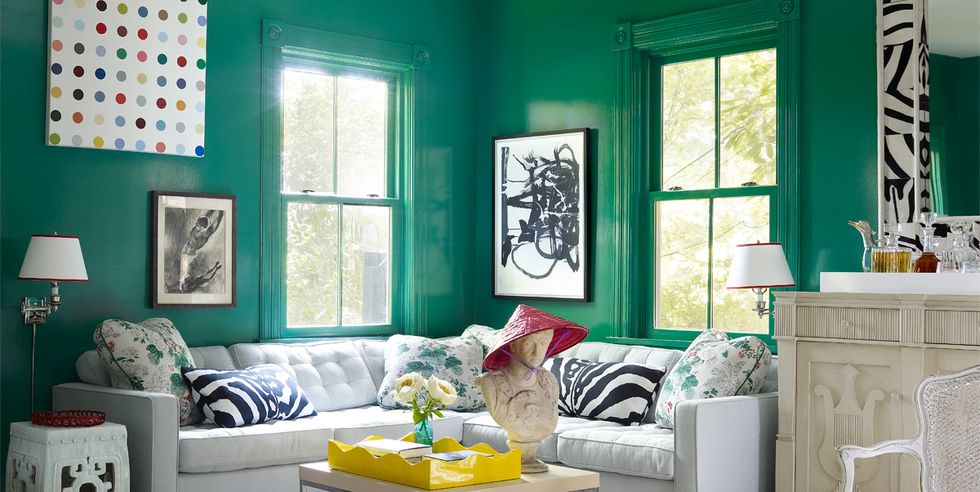 Colour psychology – Green
Green with envy – a feeling many of us get when we see someone else's beautiful interior.
As a colour, green can have much more positive connotations as well though and there are many ways you can incorporate it in your interior.
Green is very restful and harmonious – it's in the middle of the colour spectrum and therefore easy to perceive for our eyes. The right hue of green can represent growth and life but the other side of the spectrum shows green as a boring and even stagnant colour. Caution is therefore key when selecting the hue of green to incorporate in your interior.
Hues like aqua and mint are very uplifting, whereas moss green and khaki can feel much more muted, older and more dated. In the right space either of them can bring an edge to a scheme, however.
From biophilic design, using plants to bring nature inside, to creating moody interiors with deep green walls. It's all about finding the right tone for your space and the right way to showcase it.
Below are some examples of green wall coverings, furniture and accessories that all elevate their respective interior schemes.
Wall coverings
Biophilic design – especially common nowadays in commercial buildings, it has also found its way into residential living and can take many forms. From living walls to trees in entrance ways, it's a way to ensure positive mental health and living in harmony with nature.
Painted walls – Whether in a modern or more traditional setting, green can be a great choice for walls. The right tone can make a striking statement, as can be seen on the right (Elle Decor) using Benjamin Moore Impervo – Very Green. The eclectic interior is brought to life through the uplifting green backdrop, combined with neutral furniture and vibrant accessories.
The mid-century interior on the left (Elle Decor), is complemented equally well with the same shade chosen from the Benjamin Moore paint range, highlighting that one and the same colour can create different moods and complement different time periods.
Certain shades of green may even bring nature into your home. Farrow and Ball for example teamed up with the Natural History Museum to create a whole palette of gorgeous nature inspired hues.

Furniture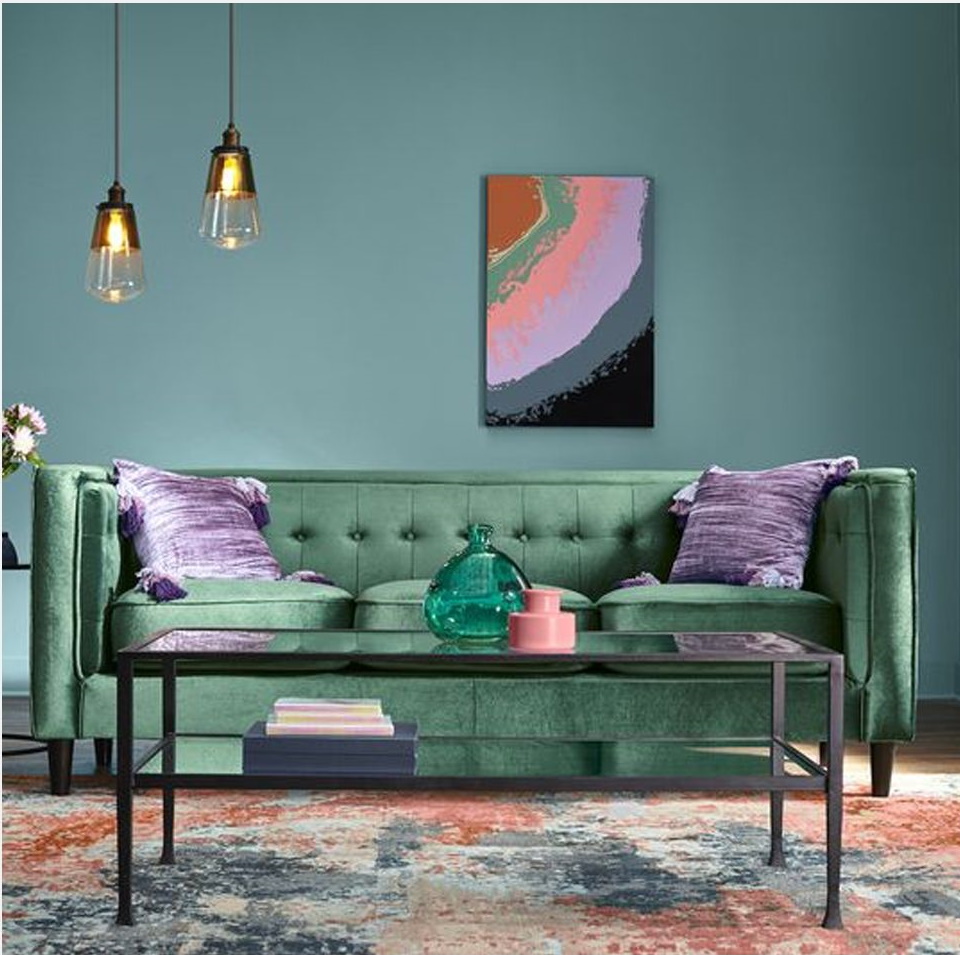 Upholstery – Green sofas, chairs and other upholstered furniture are a great way to add rich colour to your interior. Be it in an otherwise muted space to create a focal point or a more tonal composition, it can create real impact and provide a calm and relaxing environment.
But not only can you opt for plain fabrics, pattern options are vast, and can help achieve a very sophisticated look with minimal effort.

Image credit: Elle Decor
Cabinetry – Be it a kitchen, bedroom or living room, cabinets can be painted in strong colours, adding drama to your interior. This kitchen, designed by J Randall Powers, featured in Elle Decor, for example combines low green cabinetry with white hanging units and dark worktops. A stunning composition that really draws the eye.
Mixing of greens – People are often scared to mix too many shades of one colour, but a clever tonal mix can actually create a very harmonious space. A lime green wall is complemented here with pistacchio green and a variety of pastel green bar stools. Finding the right combination is key to achieve this but you shouldn't be afraid to add several shades of one colour together to achieve your scheme.
Image credit: Elle Decor
Accessories
Accents – From headboards, to cushions, lamps and throws, even the smallest accessories in a bright shade, can create interest. In a neutral interior, a green candle holder would stand out – less is often more if you are just looking to create that little "oh" moment. Strategically scattered cushions, plain or patterned can lift and refresh a white space.
Image credit: Elle Decor
A headboard as seen in the image right, can create an uplifting and refreshing focal point. Green is a great colour to accentuate with and combined with metals such as brass, it really comes to life in a very elevated fashion.
Image credit: Elle Decor
Whether you are looking to style it high end or very natural is of course up to you, but the possibilities with this colour are truly endless.

If you would like to discuss your next project or find out more about the different ways you can incorporate green into your interior, get in touch through our Contact page or via enquiries@monseinteriordesign.com to book a design consultation.
All our initial consultations are currently offered via web services and can be performed from the comfort of your own home.